What Equipment Removes Water from My Agoura Home?
4/7/2020 (Permalink)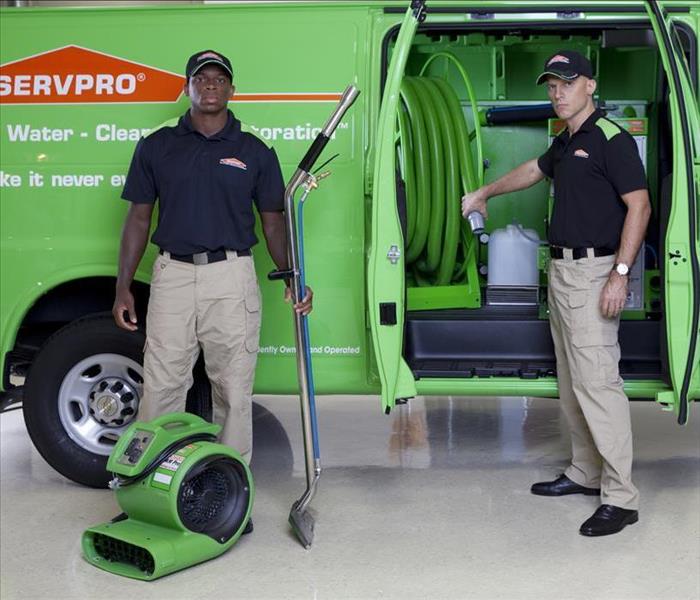 We have the experience, specialized training, and state-of-the-art equipment to restore your home to pre-damage condition.
Our Professionals Have Several Sophisticated Tools to Address an Array of Water Removal Needs.
Removing water from a damaged home requires numerous tools and devices in our inventory. While we rely heavily on industry-leading equipment to help us complete water restoration tasks more efficiently, our successes in this regard can also get attributed to our experience in the field and continued education through standard-setting firms like the Institute of Inspection, Cleaning and Restoration Certification (IICRC.)
Because of how quickly damage can spread throughout a residence, water removal in Agoura homes is a critical first step in the mitigation process. During the initial inspection and scoping of the work to get done by our administration, we can determine what tools and personnel are necessary to remove surface water, eliminate trapped moisture in materials and contents, and help to restore the home "Like it never even happened."
What Makes Surface Water a Hazard?
Surface water describes pooling effects that can occur with a higher volume of water loss. In these situations, a layer of water exists on top of the flooring material and can directly impact areas like the floors, the wall systems, and any contents in the room. There are three main problem areas with the presence of surface water, including:
The longer that areas like the flooring and drywall remain exposed to standing water in your home, the weaker and more saturated these elements become. Deterioration can begin in as little as 24 hours for some of the most sensitive materials in your home's construction, so it is vital to get drying processes started as soon as possible.
Another one of the considerable threats that exist with standing water is the movement of the loss effects. The migration of water is challenging to account for initially when pooling exists in the damaged area. Once this extraction completes, we can fixate on determining the path and spread of the water loss beyond the surface.
Microbial threats are among the most significant potential challenges that could result from inadequately managed water loss emergencies. When pooling water persists for long periods, it can increase relative humidity levels and moisture content to the point of facilitating mold growth on many of the susceptible surfaces in the damage zone.
How Can Water Get Removed from Wet Carpets?
Many homeowners might consider drying and extraction from carpets to be a lost cause, but this is not always the case. By determining the extent of the damage and the most efficient drying and restoration approach, it is often possible to recover installed carpeting without requiring removal and replacement. Several drying practices and tools can get used in these ventures, including:
Carpet wands are attachments for wet vacuums and pumps that can pull water directly from the fibers of the flooring and the porous padding underneath it. While it cannot remove the entirety of present water trapped in the flooring system, it can often provide enough water removal for secondary drying approaches to be effective.
Our SERVPRO professionals can utilize many advanced tools for extraction from softer flooring materials like carpets like our weighted units. These stand on or ride-on tools press the surface layer and padding together to move water to the surface for extraction and removal.
By utilizing powerful tools like our high-velocity, low-profile air movers, it is sometimes possible to remove moisture from padding and carpeting layers simultaneously. We position the air mover between these layers to evaporate trapped moisture in both materials.
While the removal and replacement of carpeting is one of the last resorts that our team wants to implement, this is less costly and time-consuming for the customer with an in-house division of experienced residential contractors like ours. We can utilize controlled demolition techniques to only remove compromised portions of flooring for later replacement rather than the entire room or even household.
What Happens to Water Damaged Belongings?
Content management is an essential element of water restoration, especially when standing water is a concern. We have several strategies for addressing these concerns beginning as soon as our recovery team arrives.
Often, we can protect your belongings by moving them to a different area of the property. Localized damage can allow for opportunities for reducing harm and exposure by removing items from the wet areas and putting them in undamaged portions of the house or areas like a detached garage.
Pack-out allows for relocation to our SERVPRO facility nearby for focused cleaning and recovery. We can take the time to thoroughly dry your belongings, but also address concerns like odors. Your belongings stay in a climate-controlled warehouse until mitigation completes, and move-back can get scheduled with the homeowner.
Water removal and restoration processes can vary significantly from one property to the next, but our SERVPRO of Agoura / Calabasas / Hidden Hills team stays prepared to help however your property needs. Give us a call anytime at (818) 991-6292.
See more about Agoura.